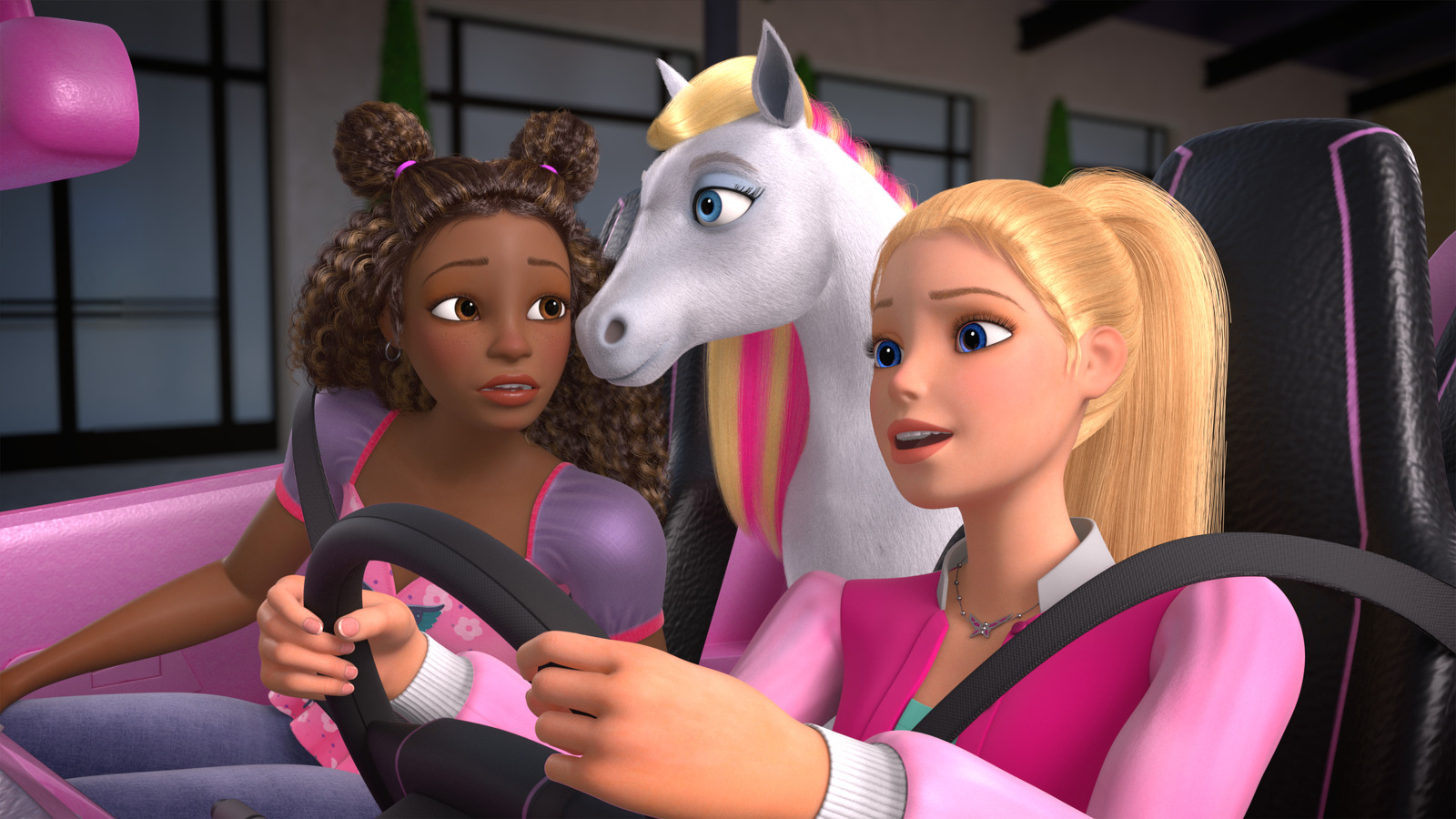 There's a certain charm to the almost uncanny animation of the Barbie shows that adult fans have come to love, but there's some genuinely great stuff in the production and storytelling that deserves to be highlighted. Rocki the Glyph is voiced by Alejandra Cazares, and the voice she uses sounds like the second coming of E.G. Daily. America Young and Tatiana Varria yet again prove that they are the perfect pairing of Barbie and Barbie, Ritesh Rajan's Ken boasts a dream boyfriend voice, and Eamon Brennan's Trey is the perfect comedic relief, as always. No one is phoning it in on this series, and it's some of the best voiceover work in the entire Barbie cinematic universe.
There's also so much casual diverse inclusion scattered throughout, including characters with different bodies, skin tones, hairstyles, and fashion choices. Lya the cashier with dyed hair and an undercut that sighs and gushes when asked about another girl … I see you. There are also so many bits of witty banter that would be completely lost on most kids, meaning it's a show that even adults can enjoy. Not to mention, in the same way that music has regional sounds like Seattle Grunge, Midwest Emo, or Nashville Honky-Tonk, there is a specific sound of Malibu Barbie Pop. The show's title track, "A Touch of Magic," sounds like the TV-Y7 version of "Speed Drive" by Charli XCX, aka the song that plays in Gerwig's movie during the chase scene.
Fortunately, Netflix has already greenlit season 2, and it will be released in spring 2024. But if you're a Barbie Girl looking to fill the void after the live-action film, "Barbie: A Touch of Magic" is worth a watch.