Photo via Sony Pictures
Warning: this article contains spoilers for Spider-Man: Across the Spider-Verse
Spider-Man: Across the Spider-Verse was filled with many an emotional moment, along with its action-packed scenes. And why wouldn't it be, seeing as Miles Morales is tested and plans to redefine what it takes to be Spider-Man. However, there was one moment in the film that might have gone over people's heads but actually may have some emotional and heartbreaking backing attached to it.
Tumblr user @kindaorangey noticed something after watching the highly anticipated Spidey-Sequel. They've called out Miles' decision to pursue a career in physics and realized why he's insistent on wanting to attend Princeton's physics program in New Jersey rather than stay in Brooklyn. They believe that Miles decided to study physics instead of art because it's his best chance for reuniting with his friends. This theory was so heartbreaking that it also made its way onto the r/Spiderman subreddit:
For a long time, we've been accustomed to Peter Parker studying science and being the absolute genius that he is, and we've forgotten that Miles is not like Peter. In Spider-Man: Into the Spider-Verse, we saw him being skilled in art through graffiti. This talent was later emphasized in some scenes in the sequel. So hearing the idea of Miles dropping art to learn the ways and scientific theories of the multiverse to reach his friends, only to have learned that they could have gone to him all this time is pretty sad. Miles didn't have to let go of his dreams, but he wanted to in order to see Gwen and Peter one more time.
This led to a debate about whether Miles should forgive Gwen and Peter in Spider-Man: Beyond the Spider-Verse. Unfortunately, many agreed that those two shouldn't be forgiven that easily, despite Gwen's newest mission to save her best friend along with her "band." After all, he was upset when it was revealed at the climax of the film that both Peter and Gwen knew about Miles' "anomaly."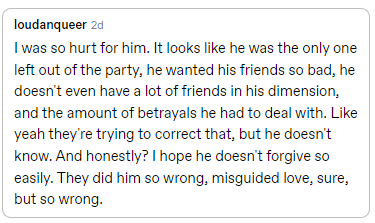 It will be interesting to see how Miles will react to his friends once they inevitably reunite on Earth-42 in Spider-Man: Beyond the Spider-Verse. Will he be able to forgive them for lying to him, or will things instantly go back to the way they were? Knowing how Miles reacted when he learned that his friends were hiding something from him, hopefully, the writers will give Miles the emotional riot act he deserves.
Spider-Man: Across the Spider-Verse is now showing in theaters.
';
About the author
'+
// "+
// '
'+
// '
'+
// "+
// ' '+
// ' '+
// '
'+
// ");
// launch zerg
// if ( WGTCADS.isMobile ) {
// (function () {
// var zergnet = document.createElement('script');
// zergnet.type="text/javascript";
// zergnet.async = true;
// zergnet.src="https://www.zergnet.com/zerg.js?id=";
// var znscr = document.getElementsByTagName('script')[0];
// znscr.parentNode.insertBefore(zergnet, znscr);
// })();
// }
// else {
// (function() {
// var zergnet = document.createElement('script');
// zergnet.type="text/javascript"; zergnet.async = true;
// zergnet.src="https://www.zergnet.com/zerg.js?id=";
// var znscr = document.getElementsByTagName('script')[0];
// znscr.parentNode.insertBefore(zergnet, znscr);
// })();
// }
// hide next link
jQuery('.post_pagination .next').parent().css('visibility', 'hidden');
refreshAds();
// tracking
if (typeof window.parent.postMessage !== 'undefined') {
parent.postMessage("encaction", "*"); // `*` on any domain
}
// hide other rows on mobile
// if ( WGTCADS.isMobile ) {
// jQuery('#zerglayout .zergentity:gt(1)').hide();
// }
}
else {
/*
jQuery.get(addressValue, qparams, function (result) {
var this_result = jQuery(result);
$post_content.removeClass('loading').html(this_result.find('#post_content').children());
this_result.find('#post_content > script').appendTo('#post_content');
if (currentPageUrl == pageLen + 1) {
// hide regular partner ads and show different IDs for tracking
jQuery('.js-footer-zerg:eq(0)').css({'height': 0, 'width': 0, 'overflow': 'hidden'});
} else {
jQuery('.js-footer-zerg:eq(0)').css({'height': 'auto', 'width': 'auto', 'overflow': 'visible'});
}
setTimeout(function () {
loadTheSlider();
}, 1000);
CMNUNT.refreshAds();
// tracking
if (typeof window.parent.postMessage !== 'undefined') {
parent.postMessage("encaction", "*"); // `*` on any domain
}
}, 'html');
*/
jQuery.get(addressValue, qparams, function (result) {
var this_result = jQuery(result);
var video =this_result.find("[src*='content.jwplatform.com']");
if (video.length >0) {
url = video[0].src;
console.log(url);
// var videourl = this_result.html().substr(video);
var sc = $(").load(url, function () {
var sub1 = sc.html().substring(sc.html().search('document.write'));
var str="document.write";
if (sub1.charAt(sub1.search(";") – 4) == '"') {
var sub2 = sub1.substring(28, sub1.search(";") – 4);
} else {
var sub2 = sub1.substring(25, sub1.search(";") – 10);
}
this_result.find('.wgtc-post-video').append("");
$post_content.removeClass('loading').html(this_result.find('#post_content').children());
this_result.find('#post_content > script').appendTo('#post_content');
if (currentPageUrl == pageLen + 1) {
// hide regular partner ads and show different IDs for tracking
jQuery('.js-footer-zerg:eq(0)').css({'height': 0, 'width': 0, 'overflow': 'hidden'});
} else {
jQuery('.js-footer-zerg:eq(0)').css({
'height': 'auto',
'width': 'auto',
'overflow': 'visible'
});
}
setTimeout(function () {
loadTheSlider();
}, 1000);
refreshAds();
// tracking
if (typeof window.parent.postMessage !== 'undefined') {
parent.postMessage("encaction", "*"); // `*` on any domain
}
});
}
else
{
$post_content.removeClass('loading').html(this_result.find('#post_content').children());
this_result.find('#post_content > script').appendTo('#post_content');
if (currentPageUrl == pageLen + 1) {
// hide regular partner ads and show different IDs for tracking
jQuery('.js-footer-zerg:eq(0)').css({'height': 0, 'width': 0, 'overflow': 'hidden'});
} else {
jQuery('.js-footer-zerg:eq(0)').css({
'height': 'auto',
'width': 'auto',
'overflow': 'visible'
});
}
setTimeout(function () {
loadTheSlider();
}, 1000);
refreshAds();
// tracking
if (typeof window.parent.postMessage !== 'undefined') {
parent.postMessage("encaction", "*"); // `*` on any domain
}
}
}, 'html');
/*
jQuery.get('http://wegotthiscovered.com/testvido.html', qparams, function (result) {
var this_result = jQuery(result);
$post_content.removeClass('loading').html(this_result);
// this_result.find('#post_content > script').appendTo('#post_content');
if (currentPageUrl == pageLen + 1) {
// hide regular partner ads and show different IDs for tracking
jQuery('.js-footer-zerg:eq(0)').css({'height': 0, 'width': 0, 'overflow': 'hidden'});
} else {
jQuery('.js-footer-zerg:eq(0)').css({'height': 'auto', 'width': 'auto', 'overflow': 'visible'});
}
setTimeout(function () {
loadTheSlider();
}, 1000);
CMNUNT.refreshAds();
// tracking
if (typeof window.parent.postMessage !== 'undefined') {
parent.postMessage("encaction", "*"); // `*` on any domain
}
}, 'html');*/
}
};
if (typeof jwplayer == 'function')
{
if($vid_short_code.length > 0) {
var address_href = window.location.pathname;
var address_array = address_href.split("https://wegotthiscovered.com/");
var final_array = address_array[address_array.length-2];
var not_numeric = isNaN(final_array);
if(not_numeric != true) { $vid_short_code.css( "display", "none" ); }
}
var playerInstance = jwplayer(0);
var playerContainerEl = document.querySelector('.wgtc-post-video');
function getElementOffsetTop(el) {
var boundingClientRect = el.getBoundingClientRect();
var bodyEl = document.body;
var docEl = document.documentElement;
var scrollTop = window.pageYOffset || docEl.scrollTop || bodyEl.scrollTop;
var clientTop = docEl.clientTop || bodyEl.clientTop || 0;
return Math.round(boundingClientRect.top + scrollTop – clientTop +700);
}
function getScrollTop() {
var docEl = document.documentElement;
return (window.pageYOffset || docEl.scrollTop) – (docEl.clientTop || 0);
}
var config = playerInstance.getConfig();
var utils = playerInstance.utils;
// get height of player element
// var playerHeight = config.containerHeight;
// get player element position from top of document
var playerOffsetTop = getElementOffsetTop(playerContainerEl);
// set player container to match height of actual video element
// this prevents container from disappearing and changing element positions
// on page when player becomes minimized. this also leaves a nice visual
// placeholder space for minimized player to return to when appropriate
// playerContainerEl.style.height = playerHeight + 'px';
// below we handle window scroll event without killing performance
// this is a minimal approach. please consider implementing something more extensive:
// i.e. http://joji.me/en-us/blog/how-to-develop-high-performance-onscroll-event
// determine player display when scroll event is called
// if inline player is no longer visible in viewport, add class
// .player-minimize to minimize and float. otherwise, remove the class to put
// player back to inline inline position
function onScrollViewHandler() {
var minimize = getScrollTop() >= playerOffsetTop;
if (!is_mobile()) {
// utils.toggleClass(playerContainerEl, 'player-minimize', minimize);
}
// update the player's size so the controls are adjusted
// playerInstance.resize();
}
// namespace for whether or not we are waiting for setTimeout() to finish
var isScrollTimeout = false;
// window onscroll event handler
window.onscroll = function() {
// skip if we're waiting on a scroll update timeout to finish
if (isScrollTimeout) return;
// flag that a new timeout will begin
isScrollTimeout = true;
// otherwise, call scroll event view handler
onScrollViewHandler();
// set new timeout
setTimeout(function() {
// reset timeout flag to false (no longer waiting)
isScrollTimeout = false;
}, 80);
};
}
});
function setCookie(cname, cvalue, exdays) {
var d = new Date();
d.setTime(d.getTime() + (exdays*24*60*60*1000));
var expires = "expires="+d.toUTCString();
document.cookie = cname + "=" + cvalue + "; " + expires + "; path=/";
}
function getCookie(cname) {
var name = cname + "=";
var ca = document.cookie.split(';');
for(var i=0; i 0 && jQuery('.gallery-slider .slider-list').length > 0){
var gallerySlideCount = jQuery('.gallery-slider .slider-list li').length;
gallerySlider = jQuery('.gallery-slider .slider-list').bxSlider({
adaptiveHeight: true,
preloadImages: 'all',
pagerCustom: '#thumbnails',
mode:'fade',
prevText:",
nextText:",
nextSelector:'.control.next',
prevSelector:'.control.prev',
onSliderLoad: function (currentIndex) {
var slideCount = gallerySlideCount;
/* lazy loading */
var direction = 1;
var $sliderImgs = jQuery(".slider-list li img");
var $curImg = $sliderImgs.eq(currentIndex);
if ($curImg && $curImg.hasClass('lazy')) {
$curImg.attr('src', $curImg.data('src')).one('load', function () {
jQuery(this).removeClass('lazy');
gallerySlider.reloadSlider();
});
}
var $nextImg = $sliderImgs.eq(currentIndex+direction);
if ($nextImg && $nextImg.hasClass('lazy')) {
$nextImg.attr('src', $nextImg.data('src')).one('load', function () {
jQuery(this).removeClass('lazy');
});
}
/* end lazy loading */
jQuery('.js-image-count').html( (currentIndex+1) + ' of ' + slideCount );
jQuery('.gallery-slider .gallery-slider-wrap').css('height', 'auto');
if(currentIndex > 0) {
changeHash(currentIndex);
}
if (currentIndex == 0) {
jQuery('.control.prev').hide();
} else {
jQuery('.control.prev').show();
}
jQuery('.caption-item[data-index='+currentIndex+']').show();
},
onSlideBefore: function (ele, oI, nI) {
var slideCount = gallerySlideCount;
/* lazy loading */
var direction = nI – oI;
var $sliderImgs = jQuery(".slider-list li img");
var $curImg = $sliderImgs.eq(nI);
if ($curImg.hasClass('lazy')) {
$curImg.attr('src', $curImg.data('src')).one('load', function () {
jQuery(this).removeClass('lazy');
gallerySlider.resizeSlider();
});
}
var $nextImg = $sliderImgs.eq(nI+direction);
if ($nextImg && $nextImg.hasClass('lazy')) {
$nextImg.attr('src', $nextImg.data('src')).one('load', function () {
jQuery(this).removeClass('lazy');
gallerySlider.resizeSlider();
});
}
/* end lazy loading */
jQuery('.js-image-count').html( (nI+1) + ' of ' + slideCount );
var galleryOffset = jQuery(ele).parents('.gallery-wrap').offset().top – 50;
if (galleryOffset) {
jQuery('html, body').animate({scrollTop: galleryOffset+'px'}, 600);
}
if(nI > 0) {
changeHash(nI);
} else {
changeHash(");
}
if ((oI+1) == slideCount && (nI+1) == (slideCount-1)) {
// _gaq.push(['_trackEvent', 'GalBackLastPage', 'clickEvent', 'Went back on gallery last page']);
// ga('send', 'event','GalBackLastPage' , 'clickEvent', 'Went back on gallery last page');
}
if (nI == 0) {
jQuery('.control.prev').hide();
} else {
jQuery('.control.prev').show();
}
jQuery('.caption-item').hide();
jQuery('.caption-item[data-index='+nI+']').show();
/*
CMNUNT.refreshAds([
'ads-desktop-btf-leaderboard',
'ads-desk-square-1',
'ads-desk-square-2',
'cmn_ad_toolbar',
'top',
'ads-mobile-square-1',
'ads-mobile-square-2',
'ads-mobile-square-3',
'ads-mobile-square-4',
'ads-mobile-square-end',
'toolbar']);*/
refreshAds();
// tracking
if (typeof window.parent.postMessage !== 'undefined') {
parent.postMessage("encaction","*"); // `*` on any domain
}
}
});
}
}
function refreshAds () {
if ( WGTCADS.isMobile ) {
freestar.freestarReloadAdSlot([
"wegotthiscovered_300x250_incontent",
"wegotthiscovered_300x600_300x250_Sidebar_4",
"wegotthiscovered_728x90_970x250_970x90_320x50_ATF",
"wegotthiscovered_300x250_incontent_2",
"wegotthiscovered_728x90_320x50_Adhesion",
"wegotthiscovered_300x250_Mobile_Footer",
"freestar-slot-footer-ad"
]);
} else {
cpmstarAPI({
kind:"refresh",
data:{
modules:[
"sidebar1",
"sidebar2",
"sidebar3",
"sidebar4",
"atf",
"728x90adhesion"
]
}
});
}
}
function changeHash( index ){
var pushAddress, hashnohash;
if (index == ") {
window.history.pushState({},"", 'https://' + window.location.hostname + window.location.pathname);
pushAddress = location.pathname + location.search + 'wgtc-gallery/';
} else {
window.location.hash = index;
hashnohash = window.location.hash.substr(1);
pushAddress = location.pathname + location.search + 'wgtc-gallery/' + hashnohash + "https://wegotthiscovered.com/";
}
//pushAddress = addressValue.replace(/^.*\/\/[^\/]+/, ").substr(1);
gtag('config', 'UA-17178859-1', {
"page_path": pushAddress
});
}