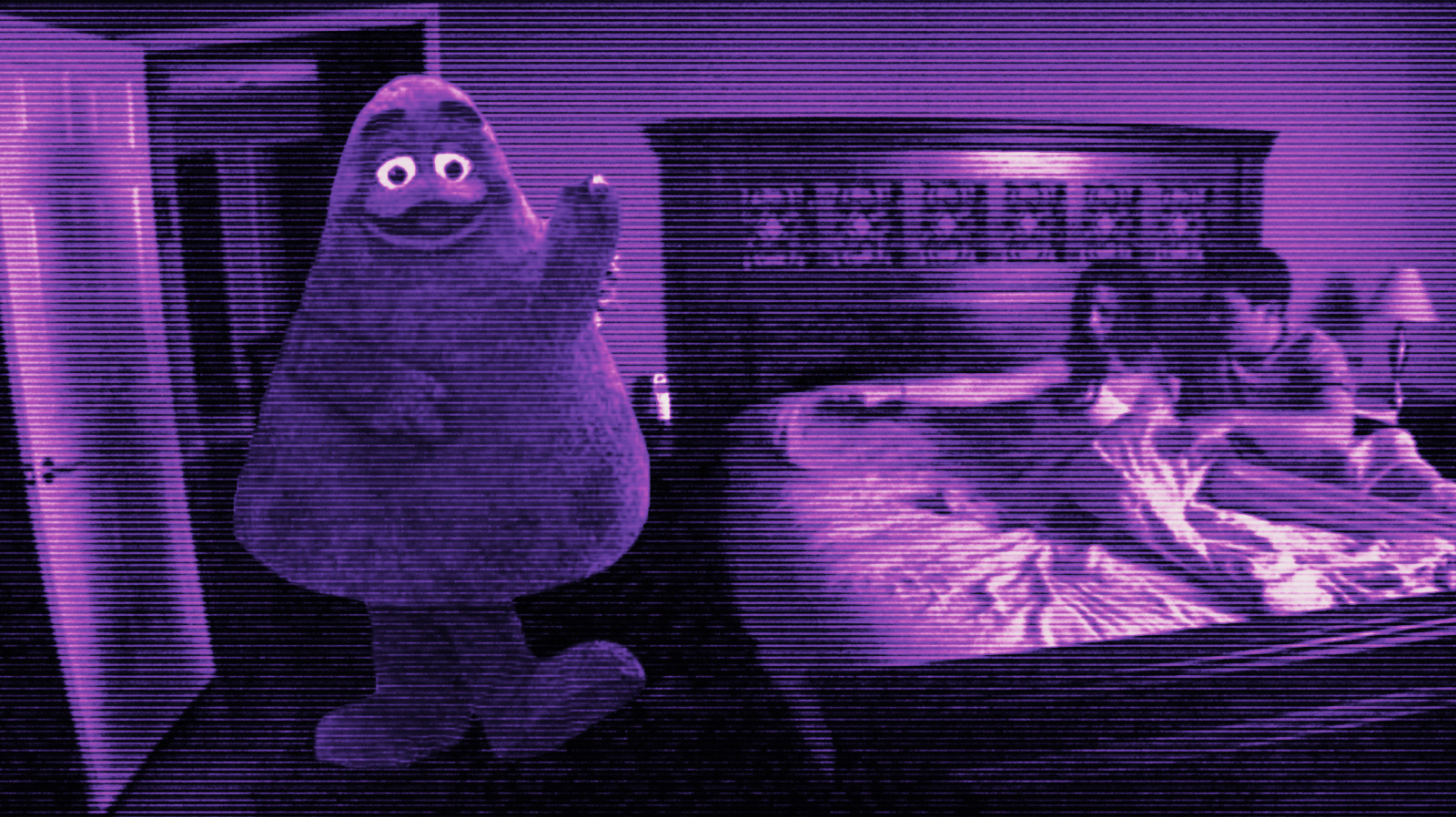 "Happy Birthday Grin! is still in its creepypasta infancy, but already a basic tradition has been established. The videos begin with someone announcing that they are about to try the new Grimace Shake and wishing Grimace a happy birthday before taking a sip of the purple stuff. From there, the footage is usually cut and resumed an indefinite amount of time later, with a lone survivor discovering the purple goo-splattered bodies of their friends.
Accounts vary as to exactly how Grimace claims his victims. Some videos state that Grimace's spirit takes hold of those who drink his milkshake, while others imply that drinking the milkshake summons Grimace himself into the flesh (or whatever it is). TikToker Hayley Kalil only takes a small sip before she begins to bleed a purple substance from her nose and then crawls to the ceiling. A video of the Anderson family suggests a "Sinister" type scenario in which Grimace takes on a child as his new slave after he slaughters his parents and siblings. The Anime Men have created a mockumentary in the vein of "Lake Mungo," featuring an interview with the Sole Survivor reflecting on the horrors he witnessed. Gianni Sirgy, the only member of the quartet not to be seen drinking the Grimace Shake, cryptically told his interviewer, "They couldn't stop… They couldn't stop the Grimace ."
It's a found footage horror trend that feels like it's emerged from the early era of the pandemic, when people were stuck at home and there was no social interaction for to curb humanity's natural tendency towards strangeness. In the first year alone, we had "Ratatouille: The Musical," sea shanties made a surprise comeback, and someone invented carrot bacon. Even celebrities have gone a little weird, for better or for worse. Grimace's Birthday Shake is a sign that the craziness is here to stay.