via WWE
With fans across the world reeling from the Marvel Cinematic Universe's latest round of delays that have set the Multiverse Saga back substantially, you'd be well within your rights to believe that things couldn't possibly get any worse. And yet, El Muerto has decided that now is the perfect time to rise from the ashes and begin preparing for shooting.
The last we heard on the Bad Bunny-fronted entry into Sony's Spider-Man Universe that not a single soul on the planet was asking for, it was beginning to look increasingly likely that it wasn't going to happen at all. It was announced for a January 2024 release date, but no further information was provided, leading many to wonder if we were supposed to just forget it ever existed.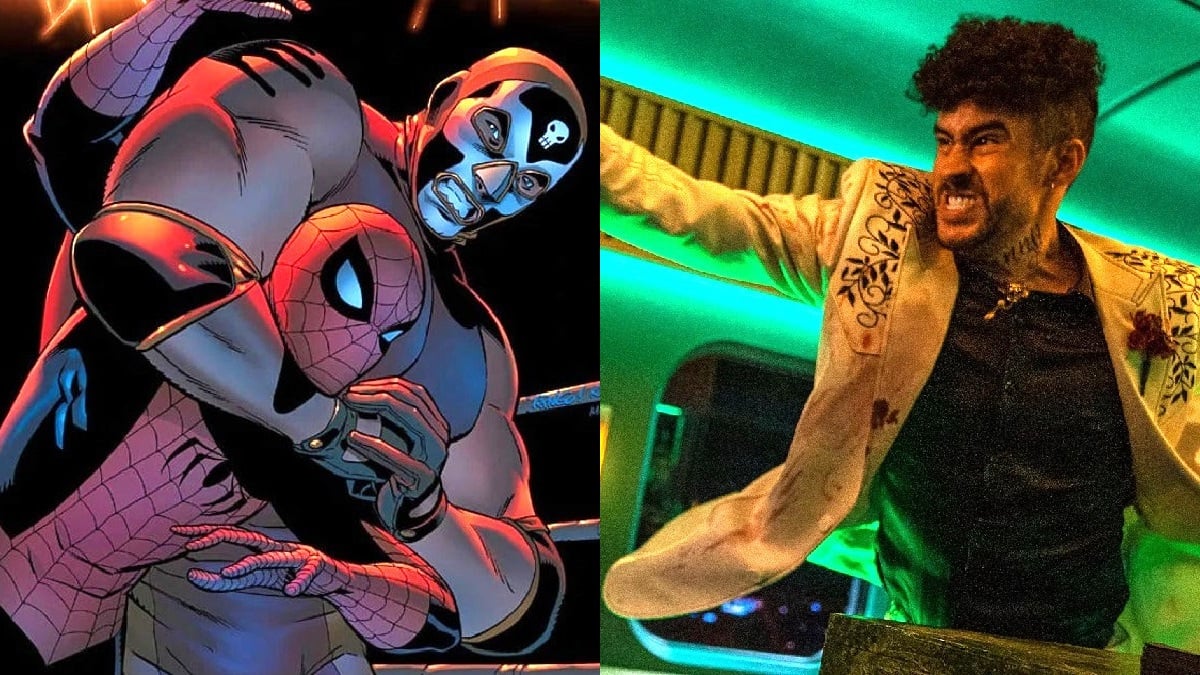 However, a new listing on Production List has put El Muerto down to begin principal photography on August 7, and while there's surely no chance it'll be filmed, edited, completed, and then thrown into theaters within the space of five months, it does indicate that maybe the needless spin-off isn't quite as doomed as many were predicting.
Bad Bunny's team revealed as recently as April that development was "at a standstill," but here we are with Kevin Feige's dominant MCU being shunted down the calendar at the exact same time El Muerto has shaken off the cobwebs and decided that now is the perfect time to start gathering serious momentum.
Mark this day in your diaries, folks, because there's a chance it'll live on in superhero infamy for some time to come.
';
About the author
'+
// "+
// '
'+
// '
'+
// "+
// ' '+
// ' '+
// '
'+
// ");
// launch zerg
// if ( WGTCADS.isMobile ) {
// (function () {
// var zergnet = document.createElement('script');
// zergnet.type="text/javascript";
// zergnet.async = true;
// zergnet.src="https://www.zergnet.com/zerg.js?id=";
// var znscr = document.getElementsByTagName('script')[0];
// znscr.parentNode.insertBefore(zergnet, znscr);
// })();
// }
// else {
// (function() {
// var zergnet = document.createElement('script');
// zergnet.type="text/javascript"; zergnet.async = true;
// zergnet.src="https://www.zergnet.com/zerg.js?id=";
// var znscr = document.getElementsByTagName('script')[0];
// znscr.parentNode.insertBefore(zergnet, znscr);
// })();
// }
// hide next link
jQuery('.post_pagination .next').parent().css('visibility', 'hidden');
refreshAds();
// tracking
if (typeof window.parent.postMessage !== 'undefined') {
parent.postMessage("encaction", "*"); // `*` on any domain
}
// hide other rows on mobile
// if ( WGTCADS.isMobile ) {
// jQuery('#zerglayout .zergentity:gt(1)').hide();
// }
}
else {
/*
jQuery.get(addressValue, qparams, function (result) {
var this_result = jQuery(result);
$post_content.removeClass('loading').html(this_result.find('#post_content').children());
this_result.find('#post_content > script').appendTo('#post_content');
if (currentPageUrl == pageLen + 1) {
// hide regular partner ads and show different IDs for tracking
jQuery('.js-footer-zerg:eq(0)').css({'height': 0, 'width': 0, 'overflow': 'hidden'});
} else {
jQuery('.js-footer-zerg:eq(0)').css({'height': 'auto', 'width': 'auto', 'overflow': 'visible'});
}
setTimeout(function () {
loadTheSlider();
}, 1000);
CMNUNT.refreshAds();
// tracking
if (typeof window.parent.postMessage !== 'undefined') {
parent.postMessage("encaction", "*"); // `*` on any domain
}
}, 'html');
*/
jQuery.get(addressValue, qparams, function (result) {
var this_result = jQuery(result);
var video =this_result.find("[src*='content.jwplatform.com']");
if (video.length >0) {
url = video[0].src;
console.log(url);
// var videourl = this_result.html().substr(video);
var sc = $(").load(url, function () {
var sub1 = sc.html().substring(sc.html().search('document.write'));
var str="document.write";
if (sub1.charAt(sub1.search(";") – 4) == '"') {
var sub2 = sub1.substring(28, sub1.search(";") – 4);
} else {
var sub2 = sub1.substring(25, sub1.search(";") – 10);
}
this_result.find('.wgtc-post-video').append("");
$post_content.removeClass('loading').html(this_result.find('#post_content').children());
this_result.find('#post_content > script').appendTo('#post_content');
if (currentPageUrl == pageLen + 1) {
// hide regular partner ads and show different IDs for tracking
jQuery('.js-footer-zerg:eq(0)').css({'height': 0, 'width': 0, 'overflow': 'hidden'});
} else {
jQuery('.js-footer-zerg:eq(0)').css({
'height': 'auto',
'width': 'auto',
'overflow': 'visible'
});
}
setTimeout(function () {
loadTheSlider();
}, 1000);
refreshAds();
// tracking
if (typeof window.parent.postMessage !== 'undefined') {
parent.postMessage("encaction", "*"); // `*` on any domain
}
});
}
else
{
$post_content.removeClass('loading').html(this_result.find('#post_content').children());
this_result.find('#post_content > script').appendTo('#post_content');
if (currentPageUrl == pageLen + 1) {
// hide regular partner ads and show different IDs for tracking
jQuery('.js-footer-zerg:eq(0)').css({'height': 0, 'width': 0, 'overflow': 'hidden'});
} else {
jQuery('.js-footer-zerg:eq(0)').css({
'height': 'auto',
'width': 'auto',
'overflow': 'visible'
});
}
setTimeout(function () {
loadTheSlider();
}, 1000);
refreshAds();
// tracking
if (typeof window.parent.postMessage !== 'undefined') {
parent.postMessage("encaction", "*"); // `*` on any domain
}
}
}, 'html');
/*
jQuery.get('http://wegotthiscovered.com/testvido.html', qparams, function (result) {
var this_result = jQuery(result);
$post_content.removeClass('loading').html(this_result);
// this_result.find('#post_content > script').appendTo('#post_content');
if (currentPageUrl == pageLen + 1) {
// hide regular partner ads and show different IDs for tracking
jQuery('.js-footer-zerg:eq(0)').css({'height': 0, 'width': 0, 'overflow': 'hidden'});
} else {
jQuery('.js-footer-zerg:eq(0)').css({'height': 'auto', 'width': 'auto', 'overflow': 'visible'});
}
setTimeout(function () {
loadTheSlider();
}, 1000);
CMNUNT.refreshAds();
// tracking
if (typeof window.parent.postMessage !== 'undefined') {
parent.postMessage("encaction", "*"); // `*` on any domain
}
}, 'html');*/
}
};
if (typeof jwplayer == 'function')
{
if($vid_short_code.length > 0) {
var address_href = window.location.pathname;
var address_array = address_href.split("https://wegotthiscovered.com/");
var final_array = address_array[address_array.length-2];
var not_numeric = isNaN(final_array);
if(not_numeric != true) { $vid_short_code.css( "display", "none" ); }
}
var playerInstance = jwplayer(0);
var playerContainerEl = document.querySelector('.wgtc-post-video');
function getElementOffsetTop(el) {
var boundingClientRect = el.getBoundingClientRect();
var bodyEl = document.body;
var docEl = document.documentElement;
var scrollTop = window.pageYOffset || docEl.scrollTop || bodyEl.scrollTop;
var clientTop = docEl.clientTop || bodyEl.clientTop || 0;
return Math.round(boundingClientRect.top + scrollTop – clientTop +700);
}
function getScrollTop() {
var docEl = document.documentElement;
return (window.pageYOffset || docEl.scrollTop) – (docEl.clientTop || 0);
}
var config = playerInstance.getConfig();
var utils = playerInstance.utils;
// get height of player element
// var playerHeight = config.containerHeight;
// get player element position from top of document
var playerOffsetTop = getElementOffsetTop(playerContainerEl);
// set player container to match height of actual video element
// this prevents container from disappearing and changing element positions
// on page when player becomes minimized. this also leaves a nice visual
// placeholder space for minimized player to return to when appropriate
// playerContainerEl.style.height = playerHeight + 'px';
// below we handle window scroll event without killing performance
// this is a minimal approach. please consider implementing something more extensive:
// i.e. http://joji.me/en-us/blog/how-to-develop-high-performance-onscroll-event
// determine player display when scroll event is called
// if inline player is no longer visible in viewport, add class
// .player-minimize to minimize and float. otherwise, remove the class to put
// player back to inline inline position
function onScrollViewHandler() {
var minimize = getScrollTop() >= playerOffsetTop;
if (!is_mobile()) {
// utils.toggleClass(playerContainerEl, 'player-minimize', minimize);
}
// update the player's size so the controls are adjusted
// playerInstance.resize();
}
// namespace for whether or not we are waiting for setTimeout() to finish
var isScrollTimeout = false;
// window onscroll event handler
window.onscroll = function() {
// skip if we're waiting on a scroll update timeout to finish
if (isScrollTimeout) return;
// flag that a new timeout will begin
isScrollTimeout = true;
// otherwise, call scroll event view handler
onScrollViewHandler();
// set new timeout
setTimeout(function() {
// reset timeout flag to false (no longer waiting)
isScrollTimeout = false;
}, 80);
};
}
});
function setCookie(cname, cvalue, exdays) {
var d = new Date();
d.setTime(d.getTime() + (exdays*24*60*60*1000));
var expires = "expires="+d.toUTCString();
document.cookie = cname + "=" + cvalue + "; " + expires + "; path=/";
}
function getCookie(cname) {
var name = cname + "=";
var ca = document.cookie.split(';');
for(var i=0; i 0 && jQuery('.gallery-slider .slider-list').length > 0){
var gallerySlideCount = jQuery('.gallery-slider .slider-list li').length;
gallerySlider = jQuery('.gallery-slider .slider-list').bxSlider({
adaptiveHeight: true,
preloadImages: 'all',
pagerCustom: '#thumbnails',
mode:'fade',
prevText:",
nextText:",
nextSelector:'.control.next',
prevSelector:'.control.prev',
onSliderLoad: function (currentIndex) {
var slideCount = gallerySlideCount;
/* lazy loading */
var direction = 1;
var $sliderImgs = jQuery(".slider-list li img");
var $curImg = $sliderImgs.eq(currentIndex);
if ($curImg && $curImg.hasClass('lazy')) {
$curImg.attr('src', $curImg.data('src')).one('load', function () {
jQuery(this).removeClass('lazy');
gallerySlider.reloadSlider();
});
}
var $nextImg = $sliderImgs.eq(currentIndex+direction);
if ($nextImg && $nextImg.hasClass('lazy')) {
$nextImg.attr('src', $nextImg.data('src')).one('load', function () {
jQuery(this).removeClass('lazy');
});
}
/* end lazy loading */
jQuery('.js-image-count').html( (currentIndex+1) + ' of ' + slideCount );
jQuery('.gallery-slider .gallery-slider-wrap').css('height', 'auto');
if(currentIndex > 0) {
changeHash(currentIndex);
}
if (currentIndex == 0) {
jQuery('.control.prev').hide();
} else {
jQuery('.control.prev').show();
}
jQuery('.caption-item[data-index='+currentIndex+']').show();
},
onSlideBefore: function (ele, oI, nI) {
var slideCount = gallerySlideCount;
/* lazy loading */
var direction = nI – oI;
var $sliderImgs = jQuery(".slider-list li img");
var $curImg = $sliderImgs.eq(nI);
if ($curImg.hasClass('lazy')) {
$curImg.attr('src', $curImg.data('src')).one('load', function () {
jQuery(this).removeClass('lazy');
gallerySlider.resizeSlider();
});
}
var $nextImg = $sliderImgs.eq(nI+direction);
if ($nextImg && $nextImg.hasClass('lazy')) {
$nextImg.attr('src', $nextImg.data('src')).one('load', function () {
jQuery(this).removeClass('lazy');
gallerySlider.resizeSlider();
});
}
/* end lazy loading */
jQuery('.js-image-count').html( (nI+1) + ' of ' + slideCount );
var galleryOffset = jQuery(ele).parents('.gallery-wrap').offset().top – 50;
if (galleryOffset) {
jQuery('html, body').animate({scrollTop: galleryOffset+'px'}, 600);
}
if(nI > 0) {
changeHash(nI);
} else {
changeHash(");
}
if ((oI+1) == slideCount && (nI+1) == (slideCount-1)) {
// _gaq.push(['_trackEvent', 'GalBackLastPage', 'clickEvent', 'Went back on gallery last page']);
// ga('send', 'event','GalBackLastPage' , 'clickEvent', 'Went back on gallery last page');
}
if (nI == 0) {
jQuery('.control.prev').hide();
} else {
jQuery('.control.prev').show();
}
jQuery('.caption-item').hide();
jQuery('.caption-item[data-index='+nI+']').show();
/*
CMNUNT.refreshAds([
'ads-desktop-btf-leaderboard',
'ads-desk-square-1',
'ads-desk-square-2',
'cmn_ad_toolbar',
'top',
'ads-mobile-square-1',
'ads-mobile-square-2',
'ads-mobile-square-3',
'ads-mobile-square-4',
'ads-mobile-square-end',
'toolbar']);*/
refreshAds();
// tracking
if (typeof window.parent.postMessage !== 'undefined') {
parent.postMessage("encaction","*"); // `*` on any domain
}
}
});
}
}
function refreshAds () {
if ( WGTCADS.isMobile ) {
freestar.freestarReloadAdSlot([
"wegotthiscovered_300x250_incontent",
"wegotthiscovered_300x600_300x250_Sidebar_4",
"wegotthiscovered_728x90_970x250_970x90_320x50_ATF",
"wegotthiscovered_300x250_incontent_2",
"wegotthiscovered_728x90_320x50_Adhesion",
"wegotthiscovered_300x250_Mobile_Footer",
"freestar-slot-footer-ad"
]);
} else {
cpmstarAPI({
kind:"refresh",
data:{
modules:[
"sidebar1",
"sidebar2",
"sidebar3",
"sidebar4",
"atf",
"728x90adhesion"
]
}
});
}
}
function changeHash( index ){
var pushAddress, hashnohash;
if (index == ") {
window.history.pushState({},"", 'https://' + window.location.hostname + window.location.pathname);
pushAddress = location.pathname + location.search + 'wgtc-gallery/';
} else {
window.location.hash = index;
hashnohash = window.location.hash.substr(1);
pushAddress = location.pathname + location.search + 'wgtc-gallery/' + hashnohash + "https://wegotthiscovered.com/";
}
//pushAddress = addressValue.replace(/^.*\/\/[^\/]+/, ").substr(1);
gtag('config', 'UA-17178859-1', {
"page_path": pushAddress
});
}